Ted and Alease Kelly fulfilled a longtime dream when they became the owners of the Inn at Folkston in 2013. It is their mission to provide a warm, welcoming environment for all visitors. A large part of the excitement of owning the Inn has been meeting a diversity of guests from all around the world.
The Inn At Folkston is a deluxe Bed and Breakfast located in Folkston, Georgia providing total luxury and relaxation. Situated in Southeast Georgia, Folkston is known as the Gateway to the Okefenokee Wildlife Refuge and the home of the famous "Cookie" Williams Viewing Platform at the Folkston Funnel.
For more information visit the website at https://www.innatfolkston.com/index.html.
There are over 30,000 different bed and breakfast in the country and only 1% of them happen to be Black owned. I think that is a total shame and something that should be changed. So, in a little effort to promote Black business I put together this list of the top 10 Black owned bed and breakfast in the US. You can also find my post about 16 Black owned hotels in the US to use on your next trip right here.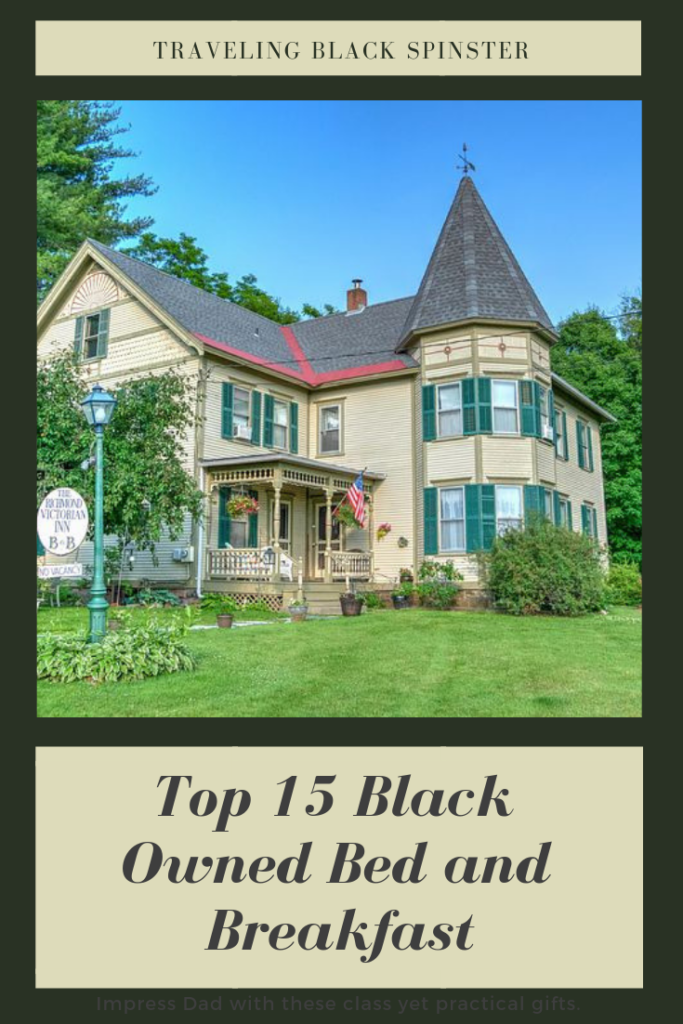 AKWAABA
You can find Awaaba in the the North East of the United States. There are four different locations and you can find them in Brooklyn, New York; Cape May, New Jersey; Washington, D.C.; and Bethany, Pennsylvania. I would truly consider this to be the gold standard in Black owned Bed and Breakfast. Monique Greenwood and her husband opened their first location in 1995 and have been growing ever since.
You can find them here: http://www.akwaaba.com/
QUINTESSENTIAL INN
This is another Northeast location. This bed, breakfast, and spa is owned by Sylvia Daley and located near the beaches of the Peconic Bay. There are five different suites in this location and they have fire places for those cold New York winter nights. Quintessential Inn is also located near several wineries so you can adventure outside of the inn as well.
You can find them here: https://quintessentialsinc.com/
MOREHEAD MANOR BED AND BREAKFAST
The Morehead Manor is located right outside of where I went to college. This establishment is located in Durham North Carolin and owned by Daniel and Monica Edwards. The B&B became open to the public in the year 1997 and has been going ever since. If you have never spent the night in an 8,000 sq ft home then this is your chance. I can also say that Durham has a lot to offer in the way of Black culture. I have spent extended time there myself.
You can find them here: https://www.moreheadmanor.com/
THE MAGNOLIA HOUSE BED AND BREAKFAST
This gem is located in Virginia. You can use this location as a great start to a honeymoon since the owners, Joyce and Langford, are certified ministers and have married over 70 couples. This Hampton bed and breakfast is has been opened for over a decade and seems to be going strong. Definitely worth putting it on the bucket list.
You can find them here: http://www.maghousehampton.com/
THEE MATRIARCH BED AND BREAKFAST
This Black owned bed and breakfast is located in Orangeburg, South Carolina. The inns are fairly new and have only been opened since 2012 but they have been going strong since they opened their doors. What sets this B&B apart from some others in the area is that this location also offers spaces for meetings. This is quite the perk and is more along the lines of a mainstream hotel. This one perk really does make the bed and breakfast stand out.
Find them here: http://www.theematriarch.com/
HENDERSON BED AND BREAKFAST
The Henderson bed and breakfast opened its door in 1994. The home is a renovated farm house in Columbus, Ohio and has plenty of midwest charm. This house has a bunch of history and was once owned by the former president, Rutherford B. Hayes. It has the prestigious history of being the first operated Black owned bed and breakfast.
I couldn't find a website but you can find them on trip advisor.
WELCOME INN MANOR
The Welcome Inn Manor is another midwest bed and breakfast. This B&B is located in the fabulous Chicago, Illinois. It happens to be rated in the top 5 of the 25 bed and breakfast in the area. It has been open since 2011 and the property itself was built in the 1880's. If you are in the city, make sure to stop by this 7 bedroom manor.
You can find them here: http://welcomeinnmanor.com/
THE URBAN COWBOY BED AND BREAKFAST.
This B&B is located in Nashville, TN. There are so many things that the music city has to offer and one of those things is this bed and breakfast. The Urban Cowboy offers eight different southwestern inspired rooms. Located in East Nashville, this bed and breakfast is instagram worthy in every sense of the word. Every woman should see herself soaking in a clawfoot tub.
You can find them here: https://www.urbancowboy.com/nashville/
THE OAKS BLUFF BED AND BREAKFAST
This Black owned bed and breakfast is located in Oaks Bluff, MA. This beautiful B&B is located near Martha's Vineyard. Not only can you support Black business but you can also take advantage of all that Martha's Vineyard has to offer.
You can find them here: http://oakbluffsinn.com/
More than Honorable Mentions: